Stake Casino – An Honest Review Of The Top Crypto Casino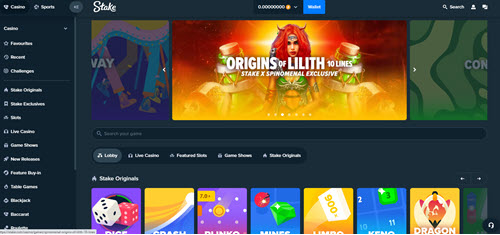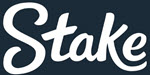 $75k Weekly Raffle
Pros
Cool Aesthetic
Pleasing Layout
Bonuses galore
Bonuses galore Original Games
Cons
Support is Deficient
A Limited Number of Games
We created this Stake.com casino review by studying the online casino's security, limits, payment services, fees, support options, games, and more.
Stake is a Curacao-based online casino that first opened its doors in 2017. It's owned and operated by a company that doesn't appear to run any other online casinos, and it has a sizable and expanding membership, as evidenced by the number of reviews available.
In our Stake.com review, we will look at how this casino stacks up against other iGaming alternatives, including cryptocurrency payment options, bonuses, games, and everything else a new player should know.
Basics
Stake is a proud member of the Crypto Gambling Foundation, although we have no idea what this is all about. On closer scrutiny, the organization has a website that does not load (it has a database issue at the time of writing) and a Twitter page that hasn't been updated in nearly a year.
The organization appears to have the correct intentions at its core, but it also appears to be dormant, rendering it utterly useless and putting casinos that advertise their involvement in jeopardy. Still, do not let that fool you; Stake.com is a fully licensed and regulated casino that partners with several well-known gaming companies.
Perhaps more reassuringly, Stake appears to be intimately affiliated with PrimeDice, a company that many of you are likely to be familiar with. PrimeDice has a solid reputation in the online gambling business, having been in operation since 2013. These two firms have slightly different parent names, but make no mistake: they are the same corporation, as the license number and address are similar.
By the way, PrimeDice is a proud member of the Crypto Gambling Foundation, but let's not get into that right now.
The Stake website is available in a variety of languages, including English, Russian, German, Spanish, Indonesian, Polish, and others.
Bonuses at Stake Casino
New Stake players are usually given a sizable Welcome Bonus, which we have discussed in the past, but it is always changing, so the best way to check what's on offer is to click the link in the sidebar and visit them.
You can also earn Free Spins, participate in regular races, and get free bets on the sports betting site as a devoted member, but you will not get the large 1 BTC to 5 BTC bonuses that you can get at sites like 7Bitcasino and BetChain Casino.
The stake is a long-term casino, one that you join because you are seeking a new virtual home rather than just to cash in on a large Welcome Bonus.
One of the best aspects of this online casino is its Loyalty Program, which is rather generous. It is always nice to see such a bonus included, and it's something we don't see often enough.
The Stake VIP Program is designed to reward actual VIPs, those who deposit the most, bet the most, and place the most wagers during the week.
You will get your VIP host as part of the Stake VIP Scheme, and you will be able to collect weekly and monthly incentives, as well as cashback offers and more. You will not be able to join these programs if you only deposit and wager modest sums, but if you play for medium to high stakes, you might get an invite soon.
We do not know the exact range, but you can find out by speaking with a member of the Stake customer care staff and discussing your intended deposit amount, and asking if it will be enough to qualify for the VIP scheme.
Games
Stake works with a small number of high-end iGaming studios and offers a wide range of their best slots. Many of the games you see will be familiar to you, as they are with all online casinos, especially if you have played at a number of them in the past.
Stake, on the other hand, avoids the continual feeling of déjà-vu by using unique thumbnails rather than the developers' generic offers.
It is a minor detail, but it adds a lot of character to the game, and while it does not impact the game or your odds of winning, it does make everything look more unique.
In the Stake gaming room, we counted slightly over 200 slots. It is a modest selection, and it is small because no well-known developers are represented. Instead of Betsoft, Microgaming, Playtech, and NetEnt, you will find creators like Relax Gaming, Bgaming, No limit City, Thunderkick, and Big Time Gaming.
The Lightning series, Crazy Time, Deal or No Deal Live, Caribbean Stud Poker, and Texas Hold'em Bonus Poker are all available from the biggest creator; Evolution Gaming, which is also where Stake receives all of its Live Casino titles.
Participate in the regular races to get the most out of these positions. When you are active on the Stake website, you will receive pop-ups about these races. To participate, simply opt-in, place a bet, and play the games. It is a terrific opportunity to gain extra points and prizes, plus you will get all of the money you win from these tournaments, making it a win-win situation.
Top Slots in Stake Casino
Originals
Stake.com features its own set of games in addition to all of the above online casino games. There is a diverse collection of "Stake originals" to pick from, including a variety of dice and card games.
However, we recommend sticking to games you're familiar with from developers you enjoy. This is not a knock on Stake; we just have a natural dislike for proprietary games.
Many years ago, one of the largest gambling sites in the UK was discovered to be accidentally defrauding its consumers when one of the game developers was found to be defrauding the system.
Even though the rules said otherwise, these "cheats" came in the form of a "double or nothing" slot offer that was weighed roughly 80 percent in the casino's favor.
It was not quite proprietary software, but it was the next best thing (or, in some cases, the next worst thing), and if it can happen to a major company that has been around for nearly half a century, it can happen to an online casino that has only been established for a few years.
Highlights
Various Promotions
Excellent Aesthetic
Authentic Games
Compatible with both mobile and desktop devices.
Payment Choices
Stake is a crypto online casino, thus you will not be able to use traditional currencies to make a deposit. However, you have the option of using Ripples, Bitcoin, Tron, Bitcoin Cash, Litecoin, or Ethereum.
There are no withdrawal limits, and while there is a pending time, it is usually less than an hour. This means that as soon as you payout, you should have your money.
Use the casino's responsible gaming features if you find yourself depositing more money than you can afford to lose and you feel your gambling is getting out of hand. Deposit limitations, which are always recommended regardless of whether you have a problem or not, and self-exclusions, which require you to stay away for a set length of time, are two examples.
User Feedbacks
There are a few aspects of Stake that we dislike, as well as a few issues that need to be fixed but haven't been handled as thoroughly as we would have liked. Some have labeled the casino a fraud as a result of these factors, but the truth is that if you type into Google "is [any casino name]" the keyword "a scam" will always come near the top of the search results.
Players are inherently wary of the industry, and they become enraged and suspicious when they lose, leading them to dismiss the site as a scam and failing to recognize that luck is not always on their side.
Stake.com, for example, is a fully licensed and legal online casino.
The primary concern we have is with the casino's handling of reviews. Its Trustpilot page has a 4.4 overall rating, based on nearly 150 reviews (at the time of writing). That's excellent news for an online casino, but the fact that only 16 percent of unfavorable reviews have received a response is not promising.
Imagine having a problem with a casino and going to the lengths of submitting a negative review to vent and voice your dissatisfaction, only to have it ignored. It is not a good habit; it makes players angrier, and it gives the impression that the club is not welcoming new members.
Reviews on other user-centric gambling sites tell a similar narrative.
We have previously highlighted casinos like CryptoWild Casino, highlighting how hard these guys try to impress and how much work they put into replying to reviews and making sure all of their customers' demands are addressed.
Only one person needs to be assigned to this function, and for the cost of one person working a few hours per week, you can have a procedure that helps players significantly, turns disgruntled members into satisfied members, and attracts non-members to join.
Of all, 16 percent is not zero percent, so they have responded to some negative reviews, but to be honest, these responses are worse than nothing. In one case, they appeared to condemn a client for failing to install two-factor authentication before telling everyone reading the review that it is the player's responsibility to keep their account secure. This may be true, but it does not imply that it is the correct thing to say. If a consumer writes in a one-star rating. "Terrible casino because they wouldn't let me win anything and wouldn't give me money when I requested", you do not call them an idiot and move on. Again that may be true, but dealing with clients in this manner is not.
You thank them for their feedback, apologize excessively (even though they were at fault), and tell them to contact you if they have any problem that needs to be resolved.
This is how the top casinos do it, and how all casinos do it, but Stake missed the memo.
SUPPORT
At Stake, the customer assistance alternatives are a touch lacking. In fact, at the time of writing, the "Live Support" link, which is always visible in the left sidebar, was broken. When we tried the Live Chat icon in the bottom right corner of the screen, the same thing happened.
We are presuming that these services were just unavailable because they only appear to be available during work hours, but it would be more helpful if we were led to an alternative or at the very least told of the outage.
We anticipate it will be aggravating for players who have a legitimate issue that has to be handled, but we have faith in the Stake team to settle any issues satisfactorily.
Frequently Asked Questions (FAQs)
The website first went live in 2017 and has been running strong since then.
Is it Possible for Me to Use Bitcoins?
BTC and a variety of other cryptocurrencies are accepted.
Is it possible for me to use PayPal?
Stake does not accept PayPal or other web wallets for deposits.
Is it possible for me to play from the United Kingdom?
If you live in the United Kingdom, you are unable to join Stake. Other big gaming regions have restrictions as well. For more information, see the table below this review.
Conclusion
When we were talking about casino reviews, we brought up some difficulties with Stake.com. However, these are minor issues that should not be a cause for concern. They should also not detract from all of the benefits that this casino offers, as well as all of the fantastic games and gaming experiences that it has to offer.
Sure, there are some minor issues, but that does not make it any less valid or desirable, and we recommend registering if you enjoy the look of this online casino.
Remember to claim your Welcome Bonus so you can get your Stake gaming experience off to a great start.